|
June 30, 2011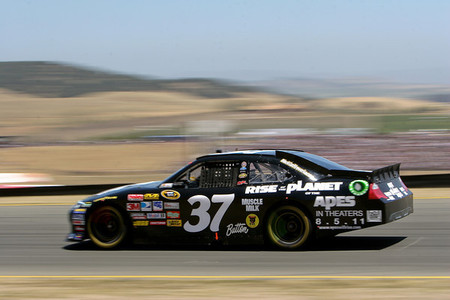 Photo Credit: Jeff Kapic http://www.jeffkapic.comChris Cook Steps in for Tomy Drissi and Drissi Motorsports

Chris Cook took the No. 37 Rise Of The Planet of The Apes Ford in NASCAR's to a 27th place finish at last weekend's Sprint Cup Series Toyota/Save Mart 350 at Infineon Raceway. Stepping in for Tomy Drissi, Cook drove an outstanding race keeping the No. 37 car on the lead lap.

Citing there had not been enough time to properly prepare, Drissi made a decision prior to the race to turn the car over to Cook. Joining Rick Ware
and Larry Gunselman is the next step in Tomy's participation in NASCAR. Looking toward upcoming road course events and possibly some premier oval track dates as well, Tomy and the team felt it was important to take the time and do it right.

"We really tried to do too much in too little time," noted Tomy. "As a driver, you have to realize that it's not just about you and what you want to do. There are a lot of people working hard and looking for results for their efforts. I wanted to make sure our sponsors, Rise Of The Planet of The Apes and Muscle Milk were given the best exposure possible."

"I also want to carry my weight with the team," Tomy continued. "Rick Ware (Rick Ware Racing) and Larry Gunselman (Max Q Motorsports) have put a lot of effort toward bringing me into the program. I want to be sure I'm prepared. They deserve only my best effort. Now we'll have the time to test properly and get acclimated to this form of racing."

Just off an outstanding 2nd place finish with the ALMS at Long Beach, Tomy will next drive the #89 Intersport Racing LMPC in the American Le Mans Series New England Grand Prix at Lime Rock Park July 6-7. He'll then start working toward the NASCAR Nationwide Series at Watkins Glen and Montreal later in the season. Additionally, Drissi will race the 50th running of the Rolex 24 Hours of Daytona, an event he has wanted to race his entire career but not had the right opportunity until now.
Comments Off
| |
Email Article