|
April 27, 2011
Driving X-Men: First Class in Theaters 6.3.11 / Muscle Milk No. 5 Porsche GT3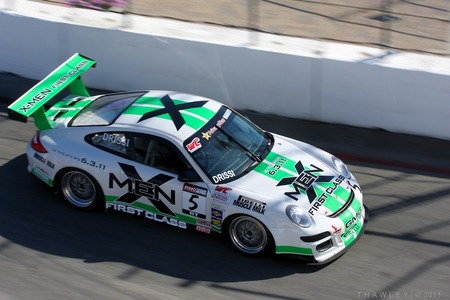 When the World Challenge Series rolls into Salt Lake City April 29, Tomy Drissi will have experience on his side. Having improved his finishing position in every round of the 2011 World Challenge Series to-date, Tomy hopes he can repeat the success he enjoyed in his Trans-Am Series visit to Miller Motorsport Park in 2010.

"We had a good run here in 2010 with the Trans-Am Series," stated Drissi. "We qualified fourth on the grid among a very fast group of cars, all with very close times. In the race we finished second, so I'm hoping that experience will help our efforts in the X-Men: First Class / Muscle Milk Porsche GT3 car. If we can find the speed, I think the Porsche will be well suited to the Miller track. It's a track that features really long straights and good high-speed corners. I think that's going to favor the Porsches."

Drissi has finished the first three rounds of the 2011 World Challenge GT Championship with a 12th, 10th and 9th place finish. With the team consistently tweaking the car to suit Tomy's needs, it appears they're headed in the right direction.

"I'm really pleased with our progress," said Tomy. "The guys are working hard sorting out the car and have done a great job helping me get used to some of the unique characteristics of the car's handling… we're definitely moving up in the standings and finessing our way to the front."

Activities at Miller Motorsport Park will start April 29 and continue through May 1st. Practice gets underway Friday and the race will run Saturday with a green flag local time of 2:35PM. The race will air on Versus, Saturday June 18 at 3PM Eastern time.
Comments Off
| |
Email Article