|
July 9, 2012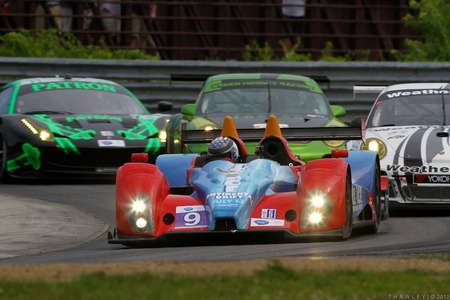 It was a rough and tumble race on the 1.53 mile Lime Rock Park bull ring for the 2012 American Le Mans Series presented by Patron Northeast Grand Prix. As expected, traffic was tight and drivers were impatient. It was impatience - someone else's - that took away the No. 9 RSR Ice Age 3 / Continental Drift LMPC car's chances for a win.

Bruno Junqueira qualified the car for the number two spot on the LMPC grid. Tomy Drissi took the first stint of the race.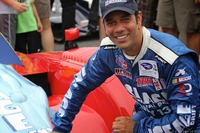 "I was in a good position at the start," noted Drissi. "I was determined to keep the car on pace… but to also keep the car out of trouble. I had a great stint. At one point, to avoid getting collected, I even gave up a spot. I just wanted to give Bruno a good car for his stint so he could go to work."

"It's ridiculous out there," added Tomy. "I mean you've got 30 cars all lapping the track in less than a minute. And… there is zero patience. Zero! But, I felt good and I kept us out of trouble. We were definitely in the hunt."

At the 55 minute mark, Tomy pulled the car into the pits for fuel, four tires and a driver change. At the one-hour mark, Bruno posted the best lap of the race in class with a 49.164!

"We were right on schedule," said Tomy. "I had a great session and now Bruno was out there doing his thing. We saw his fast lap and knew we were the car to beat."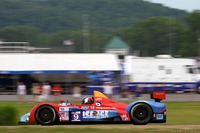 But suddenly, all of that changed. At 4:06 pm, Bruno is in the pits and the engine cover is off. Suffering damage from contact, the team fought to get the car back on track. They replaced the rear suspension and returned to the track at 4:20 pm.

Not one to simply drive around, Junqueira again posted best lap of the race in class with a 48.932. The day would end with the No. 9 Ice Age 3 / Continental Drift car finishing 5th in class and a moral victory for the team.

"I'm proud of everyone on the team today," remarked Tomy. "No one gave up. We were laps down but everyone worked like they were going for the win. We'll be ready to go at Mosport."

The American Le Mans Series presented by Tequila Patrón next heads north for Mobil 1 presents the Grand Prix of Mosport. The two-hour, 45-minute race is scheduled for noon ET on July 22 from the 2.459-mile, 10-turn Canadian Tire Motorsport Park. ESPN2's broadcast featuring live coverage begins at 1 p.m. ET. Full coverage is available starting at 11:45 a.m. ET on ESPN3.

Tomy Drissi is an American driver and Trans Am Champion. His driver experience includes ALMS, Trans-Am, NASCAR and Speed World Challenge.

Born December 9 in Hollywood, California, Tomy owns an advertising firm that produces upcoming film displays for cinemas. Drissi's first racing experience in motorsports was street racing on Mulholland Drive in the Hollywood Hills.

His professional racing career highlights include; 1999 Trans-Am Rookie of the Year, 2000 Trans-Am BBS Most Improved Driver, 2000 Trans-Am Crew of the Year and Trans-Am Champion. In 2010 Tomy competed in Trans-Am taking 1 win, 1 pole, 3 podiums, 4 Top Fives, 7 Top Tens; He also competed in the American Le Mans Series LMP1 class at Mid-Ohio finishing 3rd. In 2011 Tomy returned to the American Le Mans Series, LMPC division. He scored a 2nd at Long Beach, 3rd at Lime Rock, 1st at Mid Ohio,1st at Inaugural Baltimore Grand Prix and second at Road Atlanta -Petit Le Mans.

Tomy is married to Lacy Livingston Drissi.

Find out more about Tomy Drissi at http://www.tomydrissi.com or follow Tomy on Facebook /tomydrissi and Twitter @tomydrissi

About Ice Age 3 / Continental Drift:
Scrat's nutty pursuit of the cursed acorn, which he's been after since the dawn of time, has world-changing consequences – a continental cataclysm that triggers the greatest adventure of all for Manny, Diego and Sid. In the wake of these upheavals, Sid reunites with his cantankerous Granny, and the herd encounters a ragtag menagerie of seafaring pirates determined to stop them from returning home.

For more information, games and much more, visit www.iceagemovie.com

The American Le Mans Series presented by Tequila Patrón is the world`s leading sports car championship and is recognized as the Global Leader in Green Racing. In the tradition of the 24 Hours of Le Mans, multiple classes of cars - purpose-built prototypes and production-based Grand Touring automobiles - race on the track at the same time to create compelling race action and constant passing. All cars in the Series compete using one of five approved alternative fuels or energy sources: clean sulfur-free diesel, cellulosic E85 or E10, Isobutanol and electric hybrid technologies. The Series has more automobile marques involved than any other major race series in the world as manufacturers develop relevant technologies on track that transfer directly to the customer showroom. The ALMS competes at North America`s premier road racing tracks and selected temporary street circuits in major urban markets.


Comments Off
| |
Email Article