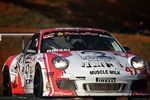 Tomy Drissi, rebounding from a scary impact at Laguna Seca two weeks ago, drove the #47 The Sitter / Muscle Milk / TruSpeed Porsche, to claim a 9th place finish at the 14th Petit Le Mans at Road Atlanta and the final round for the Pirelli World Challenge GT Championship.
With his regular #47 Porsche GT3 out of commission from the crash at Laguna, Tomy moved over to the car usually driven by Rob Morgan. While the team did a great job preparing the car, it was a challenge getting the setup similar to Tomy's car.
Tomy qualified the car 12th. Given the one-hour race format, Tomy wasted no time getting back positions.
"I really like working with the guys at TruSpeed," noted Tomy. "We came into this shuffling cars around and these guys worked their tails off trying to match the setup of my regular car. Time just wasn't on our side. With just two short practice sessions, it was a bit of a struggle."
"The car was better for the race," Tomy continued. "I got a decent start and did my best to keep the leaders in sight. We just weren't on the pace. I got by a few people and picked up a couple of positions though. So, all-in-all, I'm pleased."
"I'm glad I made the change mid-season to come over to the TruSpeed team," added Tomy. "And I want to congratulate them on their Championship season. Rob Morgan and Patrick Long were great teammates… and let's face it, they don't come much sharper than Patrick. Congratulations to him on a well deserved Championship. But the whole TruSpeed crew were fantastic."
Tomy wrapped up his season taking the 8th spot in the Pirelli World Challenge GT Championship.
Tomy Drissi is an American driver and Trans Am Champion. His driver experience includes ALMS, Trans-Am, NASCAR and Speed World Challenge. Born December 9 in Hollywood, California, Tomy owns an advertising firm that produces upcoming film displays for cinemas. Drissi's first racing experience in motorsports was street racing on Mulholland Drive in the Hollywood Hills. His professional racing career highlights include; 1999 Trans-Am Rookie of the Year, 2000 Trans-Am BBS Most Improved Driver, 2000 Trans-Am Crew of the Year and Trans-Am Champion. In 2010 Tomy competed in Trans-Am competing in 7 rounds and taking 1 win, 1 pole, 3 podiums, 4 Top Fives, 7 Top Tens; He also competed in the American Le Mans Series LMP1 class at Mid-Ohio finishing 3rd. Tomy is married to Lacy Livingston Drissi.
Find out more about Tomy at http://www.tomydrissi.com or on Facebook http://www.facebook.com/tomydrissi/. You can follow Tomy on Twitter at http://www.twitter.com/tomydrissi.
The Sitter In Theaters December 9th
When the world's most irresponsible babysitter takes three of the world's worst kids on an unforgettable overnight adventure through the streets of New York City, it's anyone's guess who's going to make it home in one piece. The Sitter is a new level of twisted and debauched hilarity from the director of Pineapple Express, starring Jonah Hill.
Pirelli World Challenge
Now in its 22nd consecutive season, the Pirelli World Challenge is North America's top production car-based racing championship. Divided into three separate categories (World Challenge GT, World Challenge GTS, and World Challenge Touring Car), each race features a thrilling standing start, adrenaline filled door-to-door action and world-class drivers. The Pirelli World Challenge features cars from the world's most popular manufacturers – race-prepped versions of the cars driven on the streets. Sanctioned by SCCA Pro Racing, the series races at North America's premier road and temporary street courses.