About Tomy Drissi



Tomy Drissi is an American driver and Trans Am Champion. His driver experience includes ALMS, Trans-Am, NASCAR and Speed World Challenge.
Born December 9 in Hollywood, California, Tomy owns an advertising firm that produces upcoming film displays for cinemas. Drissi's first racing experience in motorsports was street racing on Mulholland Drive in the Hollywood Hills.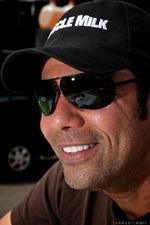 Tomy's professional racing career highlights include:
• 1999 Trans-Am Rookie of the Year,
• 2000 Trans-Am BBS Most Improved Driver,
• 2000 Trans-Am Crew of the Year
• 2000 Trans-Am Long Beach Champion
• 2009 Trans-Am Champion.
• 2010 ALMS (one off race) Prototype LMP1 3rd. at Mid Ohio
• 2011 saw Tomy's return to the American Le Mans LMPC division. He scored a 2nd at Long Beach, 3rd at Lime Rock, 1st at Mid Ohio,1st at Inaugural Baltimore Grand Prix and second at Road Atlanta -Petit Le Mans.
• 2012, Drissi teamed with Bruno Junqiera for finishing 2nd at Laguna Seca, a win at Mosport (Canadian Tire Motorsports Park), 2nd at Baltimore and second at the season finale, Petit Lemans.
• 2013 NASCAR CUP/Nationwide. Best result at Mid Ohio starting 38th and finishing 19th.
• 2014 IMSA LMPC at Daytona 3rd.
• 2014 NASCAR CUP/Nationwide. Finished 19th at The Glen
• 2015 TUDOR Series. 2nd Place Rolex 24 at Daytona
• 2016 WeatherTech Series. 2nd Place Rolex 24 at Daytona
• 2017 Three wins in the Trans Am Series
• 2017 WeatherTech Series. 1st Place Motul Petit Le Mans at Road Atlanta
• 2018 Trans Am Series West Champion
Tomy is married to Lacy Livingston Drissi.