About Tomy Drissi


Tomy Drissi is an American racing driver, multi-winner IMSA driver, and Trans Am champion. His driver experience includes ALMS, Trans-Am, and NASCAR.
Born December 9th in Hollywood, California, Tomy also owns a motion picture creative advertising agency. Drissi's first racing experience in motorsports was street racing on Mulholland drive in the Hollywood Hills.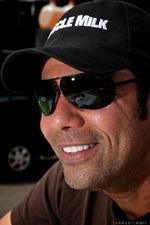 Tomy's professional racing career highlights include:
1999 Trans-Am Rookie of the Year

2000 Trans-Am BBS Most Improved Driver

2000 Long Beach Grand Prix Champion

2000 Trans-Am Crew of the year

2009 Trans-Am Champion

2010 ALMS (one-off race) Prototype LMP1 3rd. at Mild Ohio

2011 Drissi teamed up with Kyle Marcelli for a return to the American Le Mans LMPC division. He scored a 2nd at Long Beach, 3rd at Lime Rock, 1st at Mild Ohio, 1st at Inaugural Baltimore Grand Prix and 2nd at Road Atlanta- 10 hour Petit Le Mans

2012 Drissi teamed with Bruno Junqiera for finishing 2nd at Laguna Seca, a win at Mosport (Canadian Tire Motorsports Park), 2nd at Baltimore and 2nd at the season finale, 10 hour Petit Lemans.

2013 NASCAR CUP/Nationwide. Best result at Mid Ohio starting 38th and finishing 19th

2014 IMSA LMPC Rolex 24 at Daytona 3rd

2014 NASCAR CUP/Nationwide. Finished 19th at The Glen

2015 TUDOR Series, 2nd Place Rolex 24 at Daytona

2016 WeatherTech Series, 2nd Place Rolex 24 at Daytona

2017 Three wins in the Trans Am Series

2017 WeatherTech Series. 1st Place Motul 10 hour Petit Le Mans at Road Atlanta

2018 Trans Am Series West Champion

13 wins, 51 podiums, approximately 75 top fives and 12 poles

Tomy is married to Lacy Livingston Drissi with whom he has two beautiful children, Elin and Jagger.
Follow Tomy Drissi on Social Media at the following:
Instagram: https://www.instagram.com/tomydrissi/
Facebook: https://www.facebook.com/tomydrissi/
Twitter: twitter.com/tomydrissi
Website: http://tomydrissi.com/
For media inquiries and booking opportunities:
Contact Julia – julia@drissi.com