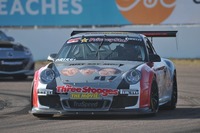 Photo by Rick DoleDriving the #47 TruSpeed 3 Stooges Porsche GT3, Tomy Drissi was back in action with the 2012 Pirelli World Challenge Acura Sports Car Challenge of St. Petersburg IZOD IndyCar event. This is the third straight year the World Challenge series begins its race season in Florida hosting a doubleheader weekend. Round One took place on Saturday, March 24, while Round Two was held on Sunday, March 25.
The 50-car field made for a challenging weekend in practice and racing. With the tight twisting turns, the St. Petersburg street circuit took its toll on cars and drivers alike.
"Man, it was really tough out there," said Tomy following Saturday's feature. "Even the front stretch was a traffic jam. At no time could you clear your head. One minute you're surround by the GT cars you're competing with, and the next thing you know, your carving your way through slower touring car traffic."
"I'm really pleased we could get a 5th place finish for the #47 TruSpeed 3 Stooges Porsche GT3," added the Trans Am Champion. "We've been picking up time all week long. We didn't have a great starting position even though we picked up over two seconds. The field was especially tight. There are a lot of good cars running the GT class."
While Tomy's 5th place finish provided him with a 9th place starting spot on Sunday (based on fast laps from Saturday), he would never get to push his Porsche to the front. In the early going, the car develop transmission problems forcing Tomy to end his day early.
Tomy's #47 Porsche GT3 livery this week will feature Larry, Moe and Curly, The 3 Stooges. While trying to save their childhood orphanage, Moe, Larry, and Curly inadvertently stumble into a murder plot and wind up starring in a reality TV show.The movie opens in theaters nationwide on April 13, 2012.
The St. Petersburg events will air on NBC Sports, Sunday, April 8th at 4:30-6PM eastern. Note, time and date subject to change. View live streaming on www.world-challengeTV.com <http://www.world-challengeTV.com> day of races and continuously on demand after races.
Tomy Drissi is an American driver and Trans Am Champion. His driver experience includes ALMS, Trans-Am, NASCAR and Speed World Challenge.
Born December 9 in Hollywood, California, Tomy owns an advertising firm that produces upcoming film displays for cinemas. Drissi's first racing experience in motorsports was street racing on Mulholland Drive in the Hollywood Hills.
His professional racing career highlights include; 1999 Trans-Am Rookie of the Year, 2000 Trans-Am BBS Most Improved Driver, 2000 Trans-Am Crew of the Year and Trans-Am Champion. In 2010 Tomy competed in Trans-Am taking 1 win, 1 pole, 3 podiums, 4 Top Fives, 7 Top Tens; He also competed in the American Le Mans Series LMP1 class at Mid-Ohio finishing 3rd. In 2011 Tomy returned to the American Le Mans Series, LMPC division. He scored a 2nd at Long Beach, 3rd at Lime Rock, 1st at Mid Ohio,1st at Inaugural Baltimore Grand Prix and second at Road Atlanta -Petit Le Mans.
Tomy is married to Lacy Livingston Drissi.
World Challenge – The Most Relevant Road Racing In The World
Celebrating its 23rd season in 2012, the Pirelli World Challenge Championship has built its legacy around providing fans the most competitive road racing in the world, and the series has earned well-deserved praise the past few years from publications such as AutoWeek, Car & Driver and RACER Magazine for doing just that. But what really sets World Challenge GT, GTS and Touring Car apart from all other series is the "everyday" element it brings each event. World-class drivers piloting production-based cars that come from more than 10 auto manufacturers – it's a formula that has and will continue to serve the interests of manufacturers, drivers and, most importantly, automotive enthusiasts and race fans.