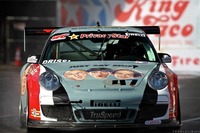 On a weekend where the weather took its toll on the already abbreviated schedule, Tomy Drissi made the most of his time in the #47 TruSpeed 3 Stooges Porsche GT3 for round 3 of the Pirelli World Challenge Series at the 2012 Long Beach Grand Prix.
"Time in the car was really at a premium," said Tomy Drissi. "We go into this even knowing track time is going to be limited. Throw in this weekend's weather issues and you've got yours hands full. We had rain, dry, sunny, cloudy…. and that was just the first session. We were absolutely sure that race day would be clear with temperatures creeping back up to normal. So, while we wanted to get out on the track, the data we get from a wet track doesn't do us much good. And even from a standpoint of the driver getting seat time, it's not the sort of conditions that are going to help you work on areas where you might find a little more speed. It was tough."
And tough it was. Tomy's Porsche just wasn't up to the task during qualifying and the Trans Am Champion had to tackle the World Challenge standing start from 10th on the grid.
"We just couldn't find the speed in qualifying," added Tomy. "It wasn't so much that the car wasn't right… I think it was more about the track and finding the grip we need to go fast."
But race day would be a different story. Tomy got a good start of the line and immediately jumped into the mix with the front runners. Running with teammate, Lawson Aschenbach, Tomy put the #47 TruSpeed 3 Stooges Porsche GT3 in the hunt.
"Lawson and I were able to break out on our own and had a good run together," said Tomy, smiling. "TruSpeed gives us great cars. We were pretty close all the way around the circuit. Ultimately, Lawson saw a spot to go around and there was no way I'd hold him up. We had a great time, though."
Tomy finished 6th with Lawson one spot ahead in 5th. With Lawson's fast lap of 1:22.892 and Tomy just a tick behind at 1:23.053, the TruSpeed duo were the fastest Porsches on the track.
The Pirelli World Challenge Long Beach Grand Prix presented by StopTech will be televised on NBC Sports Network at 3:00 p.m. ET on Sunday, April 29.
The 2012 Pirelli World Challenge Championships will return to action at Miller Motorsports Park with a single race for the GT and GTS classes and a tripleheader of racing for the Touring Car class. The new B-Spec class will also make its World Challenge debut with a Utah tripleheader.

Tomy Drissi is an American driver and Trans Am Champion. His driver experience includes ALMS, Trans-Am, NASCAR and Speed World Challenge.
Born December 9 in Hollywood, California, Tomy owns an advertising firm that produces upcoming film displays for cinemas. Drissi's first racing experience in motorsports was street racing on Mulholland Drive in the Hollywood Hills.
His professional racing career highlights include; 1999 Trans-Am Rookie of the Year, 2000 Trans-Am BBS Most Improved Driver, 2000 Trans-Am Crew of the Year and Trans-Am Champion. In 2010 Tomy competed in Trans-Am taking 1 win, 1 pole, 3 podiums, 4 Top Fives, 7 Top Tens; He also competed in the American Le Mans Series LMP1 class at Mid-Ohio finishing 3rd. In 2011 Tomy returned to the American Le Mans Series, LMPC division. He scored a 2nd at Long Beach, 3rd at Lime Rock, 1st at Mid Ohio,1st at Inaugural Baltimore Grand Prix and second at Road Atlanta -Petit Le Mans.
Tomy is married to Lacy Livingston Drissi.
Tomy's #47 Porsche GT3 livery this week will feature Larry, Moe and Curly, The 3 Stooges. While trying to save their childhood orphanage, Moe, Larry, and Curly inadvertently stumble into a murder plot and wind up starring in a reality TV show.The movie opens in theaters nationwide on April 13, 2012.
World Challenge – The Most Relevant Road Racing In The World
Celebrating its 23rd season in 2012, the Pirelli World Challenge Championship has built its legacy around providing fans the most competitive road racing in the world, and the series has earned well-deserved praise the past few years from publications such as AutoWeek, Car & Driver and RACER Magazine for doing just that. But what really sets World Challenge GT, GTS and Touring Car apart from all other series is the "everyday" element it brings each event. World-class drivers piloting production-based cars that come from more than 10 auto manufacturers – it's a formula that has and will continue to serve the interests of manufacturers, drivers and, most importantly, automotive enthusiasts and race fans.