|
July 27, 2011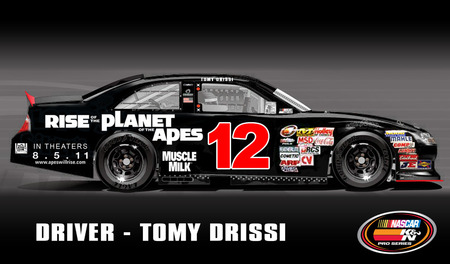 Broken Axle Hurts The No. 12 Rise of the Planet of the Apes / Muscle Milk Toyota Camry's Day

Driving the No. 12 Rise of the Planet of the Apes in Theaters 8.5.11/ Muscle Milk Toyota Camry at the NASCAR K&N Pro Series West in Portland for the Bi-Mart Salute to the Troops 125, Tomy Drissi was showing great form despite a broken axle early in the race.

The Trans-Am Champion was enjoying solid runs all weekend long, recording 9th fastest in practice and qualifying 12th for the Bi-Mart Salute to the Troops 125.

"This was an excellent weekend," noted Drissi after the race. "The broken axle was unfortunate… we had a really fast car. The crew did a great job of getting the car back on the track but we lost quite a few laps. But even then, we were able to pick up a couple of laps after getting back out there. I'm quite sure we'd have had a top-10 if not a top-5 car. It was that good."

"The NASCAR K&N Pro Series is an excellent series for me to get more seat time in a stock car," added Drissi. "This run at Portland was exactly what I needed to become more accustomed to this type of car and racing."

The NASCAR K&N Pro Series, both East and West divisions are NASCAR's highest level driver development race series. Many legendary NASCAR Cup drivers began their professional careers in one of the three national NASCAR series from this level.

Just off back-to-back podium finishes in the American Le Mans Series, Tomy is working toward racing in the NASCAR Nationwide Series at Watkins Glen and Montreal later in the season. Additionally, Drissi will race the 50th running of the Rolex 24 Hours of Daytona, an event he has wanted to race his entire career but not had the right opportunity until now.

"I really appreciate the efforts of Bill McNally and the crew at BMR" added Tomy. "Bill McAnally Racing is one of the most respected race teams on the west coast and they really got behind me."

The Bi-Mart Salute to the Troops 125 will be televised to a national audience on SPEED at 6 p.m. ET on Aug. 18, marks the third and final road course event of the season for the series. It marks the third consecutive year the West Series returns to the two mile road course at Portland International Speedway since its first race in 1986. Christened the NASCAR K&N Bi-Mart 125. Salute the the Troops, the weekend event draws crowds in the tens of thousands with activities over three days.
Comments Off
| |
Email Article