|
July 10, 2011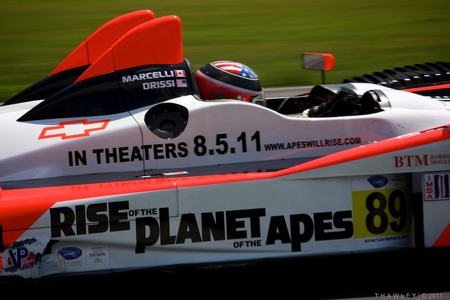 No. 89 Rise of the Planet of the Apes Finishes Third
With their second podium in as many races, Tomy Drissi and Kyle Marcelli finessed their way to a third place finish Saturday driving the Intersport Racing No. 89 Rise of the Planet of the Apes / Muscle Milk LMPC car in the American Le Mans Series Northeast Grand Prix at Lime Rock Park in Lakeville, Connecticut.

While they might call it Lime Rock Park, Saturday's race was anything but a walk in the park. In what turned out to be a contest of true survival of the fittest, Drissi and his Canadian co-driver used wits and determination to survive the 32 car melee. Turning in laps just a blink over 50 seconds while fighting heat and exhaustion, the race was a true test of endurance from flag-to-flag.

"This turned into a total street fight," said Drissi. "In the first part of my stint, traffic was so bunched up you literally had to fight for every inch of track. Bumper-to-bumper doesn't even describe it. In the braking zones, on the front straight… it didn't matter, you literally had cars on all four sides. I got hit and spun early on… you just have to shake it off, put your head back down and go to work."
Comments Off
| |
Email Article