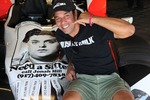 Team Hoping To Keep LMPC Podium Streak Alive
Tomy Drissi will join Kyle Marcelli, Chapman Ducote and David Ducote in the No. 89 Merchant Services / The Sitter / Lafarge LMPC car for the 14th running of the American Le Mans Series Petit Le Mans at Road Atlanta. The 1,000-mile/10-hour enduro is also the penultimate round of the Intercontinental Le Mans Cup.
The No. 89 car has been on the podium five times this season… four times with Drissi and Marcelli at the wheel. The driving duo's first success came with a 2nd place finish at Long Beach, third at Lime Rock and wins at Mid-Ohio and Baltimore.
"This is a special event," said Drissi. "When you're a racer, you want to race every chance you get. But there are some tracks and some events that are held with a little higher regard… you just look forward to them…. Petit Le Mans is one of those races."
All eyes of the sports car racing world are focused on the 14th annual Petit Le Mans powered by Mazda, and on Road Atlanta. A true road racer's track, the 12 turn, 2.54 mile Road Atlanta offers all the elements drivers look for in a natural terrain course. Long straights combine with turns that wind through a number of elevation changes making for great racing for drivers and spectators alike.
This year's final round of the American Le Mans Series presented by Tequila Patrón features a 58-car entry and a starting grid of 53. The 1,000-mile/10-hour enduro also is the penultimate round of the Intercontinental Le Mans Cup. With the number of entries and because the LMPC class is not recognized for ILMC competition, only a limited number of LMPC entries are qualified for the race. To accommodate ALMS regular season entries and drivers, an agreement was reached between IMSA and the ACO to allow for four driver teams. Intersport will take advantage of the four-driver rule change by teaming up the talents of Kyle Marcelli, Tomy Drissi, Chapman Ducote and David Ducote.
"I really think the rule change works well for us" noted Drissi. "Kyle and I have been especially strong together every time we've run. Kyle and Chapman have also had great success in Europe. Also, we're not here running for points… we're in it to win. So, I think the No. 89 car has a great shot at the top of the LMPC podium."
The 14th annual Petit Le Mans powered by Mazda is set for a 11:30 a.m. ET on Saturday, Oct. 1 from Road Atlanta. The race will air on ABC at 4 p.m. ET on Sunday, Oct. 2. Live coverage will be available in the U.S. on ESPN3 or outside the U.S. on americanlemans.com. Ticket and schedule information is available on the ALMS schedule page.
Tomy Drissi is an American driver and Trans Am Champion. His driver experience includes ALMS, Trans-Am, NASCAR and Speed World Challenge. Born December 9 in Hollywood, California, Tomy owns an advertising firm that produces upcoming film displays for cinemas. Drissi's first racing experience in motorsports was street racing on Mulholland Drive in the Hollywood Hills. His professional racing career highlights include; 1999 Trans-Am Rookie of the Year, 2000 Trans-Am BBS Most Improved Driver, 2000 Trans-Am Crew of the Year and Trans-Am Champion. In 2010 Tomy competed in Trans-Am competing in 7 rounds and taking 1 win, 1 pole, 3 podiums, 4 Top Fives, 7 Top Tens; He also competed in the American Le Mans Series LMP1 class at Mid-Ohio finishing 3rd. Tomy is married to Lacy Livingston Drissi.
Find out more about Tomy at http://www.tomydrissi.com or on Facebook http://www.facebook.com/tomydrissi/. You can follow Tomy on Twitter at http://www.twitter.com/tomydrissi.
The Sitter In Theaters December 9th
When the world's most irresponsible babysitter takes three of the world's worst kids on an unforgettable overnight adventure through the streets of New York City, it's anyone's guess who's going to make it home in one piece. The Sitter is a new level of twisted and debauched hilarity from the director of Pineapple Express, starring Jonah Hill.
The American Le Mans Series presented by Tequila Patrón
The American Le Mans Series presented by Tequila Patrón is the world`s leading sports car championship and is recognized as the Global Leader in Green Racing. In the tradition of the 24 Hours of Le Mans, multiple classes of cars – purpose-built prototypes and production-based Grand Touring automobiles – race on the track at the same time to create compelling race action and constant passing. All cars in the Series compete using one of five approved alternative fuels or energy sources: clean sulfur-free diesel, cellulosic E85 or E10, Isobutanol and electric hybrid technologies. The Series has more automobile marques involved than any other major race series in the world as manufacturers develop relevant technologies on track that transfer directly to the customer showroom. The ALMS competes at North America`s premier road racing tracks and selected temporary street circuits in major urban markets.