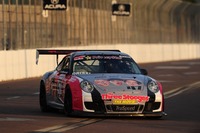 Photo: Rick Dole http://www.dolephoto.comTrans Am Champion Tomy Drissi, joins up with TruSpeed Racing for round three of 2012 Pirelli World Challenge at the Long Beach Grand Prix. This will be Tomy's third race of season in the #47 TruSport 3 Stooges Porsche GT3. The homecoming will see Tomy doing double duty for the weekend as he will also compete in the #9 RSR Prometheus The Movie LMPC car in the American Le Mans Series race on Saturday.
"It's going to be a busy weekend for sure," said Tomy. "But it's home and I always have a great time at this race. I've had good results here… including winning my first professional race. It's a fantastic atmosphere and we're running with the 3 Stooges on the #47 TruSpeed Porsche GT3. Now that's fun!"
At the recent St. Petersburg Grand Prix, Tomy split the World Challenge weekend with a 5th place in round one and a mechanical issue in round two. Given the traffic, he was very pleased with the 5th place finish.
"We had a good car at St. Petersburg and I'm real confident coming into this weekend," Tomy added. "I have an excellent team and very good equipment. That's a big boost to your confidence when you don't have to worry about the car. This track requires a tremendous amount of concentration. So when the team does their job, I can do mine. I know we'll be quick here."
This will be the seventh-straight year the Pirelli World Challenge returns to the Toyota Grand Prix of Long Beach and the 'Roar by the Shore', April 13-15. Only the GT and GTS fields will compete on the 11-turn, 1.968-mile temporary street course.
The Long Beach Grand Prix Presented by StopTech will be part of the Grand Prix of Long Beach weekend held on the Streets of Long Beach, April 13-15, 2012. The weekend will mark Round Three of the Pirelli World Challenge Championships for the GT and GTS classes, and will also include racing action from IndyCar, ALMS and others.
The Long Beach Grand Prix Presented by StopTech will air on NBC Sports Network, April 29, at 3 p.m. (EDT). Sunday's Pirelli World Challenge Long Beach Grand Prix presented by StopTech will be easily accessible to online viewers around the world. The race will also be available live to Droid phone users. The online feed for the GT/GTS Round 3 race of the 2012 Pirelli World Challenge Sports Car Wars season is scheduled to start at 4pm pacific/ 7pm eastern, Sunday, April 15. All World Challenge races this season are streamed live online at www.world-challengetv.com.
Tomy Drissi is an American driver and Trans Am Champion. His driver experience includes ALMS, Trans-Am, NASCAR and Speed World Challenge.
Born December 9 in Hollywood, California, Tomy owns an advertising firm that produces upcoming film displays for cinemas. Drissi's first racing experience in motorsports was street racing on Mulholland Drive in the Hollywood Hills.
His professional racing career highlights include; 1999 Trans-Am Rookie of the Year, 2000 Trans-Am BBS Most Improved Driver, 2000 Trans-Am Crew of the Year and Trans-Am Champion. In 2010 Tomy competed in Trans-Am taking 1 win, 1 pole, 3 podiums, 4 Top Fives, 7 Top Tens; He also competed in the American Le Mans Series LMP1 class at Mid-Ohio finishing 3rd. In 2011 Tomy returned to the American Le Mans Series, LMPC division. He scored a 2nd at Long Beach, 3rd at Lime Rock, 1st at Mid Ohio,1st at Inaugural Baltimore Grand Prix and second at Road Atlanta -Petit Le Mans.
Tomy is married to Lacy Livingston Drissi.
Tomy's #47 Porsche GT3 livery this week will feature Larry, Moe and Curly, The 3 Stooges. While trying to save their childhood orphanage, Moe, Larry, and Curly inadvertently stumble into a murder plot and wind up starring in a reality TV show.The movie opens in theaters nationwide on April 13, 2012.
World Challenge – The Most Relevant Road Racing In The World
Celebrating its 23rd season in 2012, the Pirelli World Challenge Championship has built its legacy around providing fans the most competitive road racing in the world, and the series has earned well-deserved praise the past few years from publications such as AutoWeek, Car & Driver and RACER Magazine for doing just that. But what really sets World Challenge GT, GTS and Touring Car apart from all other series is the "everyday" element it brings each event. World-class drivers piloting production-based cars that come from more than 10 auto manufacturers – it's a formula that has and will continue to serve the interests of manufacturers, drivers and, most importantly, automotive enthusiasts and race fans.