Rick Ware Racing Rescues Alvin And The Chipmunks For The NASCAR Nationwide Zippo 200
After a damaged rear wheel spoiled his qualifying run for Saturday's NASCAR Nationwide Zippo 200 at Watkins Glen, American Le Mans Series driver and Trans Am Champion Tomy Drissi could only sit and watch his hopes for making the grid slowly fade with each qualifying group. As luck would have it, the No. 41 Alvin and the Chipmunks: Chipwrecked / Muscle Milk, Ford Mustang's fate was sealed after barely turning two laps on the track.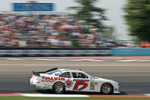 But this is Rick Ware Racing. Having the foresight not to leave anything to chance, Rick Ware and the RWR crew had prepared a backup car in full Alvin and the Chipmunks: Chipwrecked / Muscle Milk race trim and got it qualified and in Saturday's show. Acknowledging the importance of providing Tomy's sponsors with exposure to the NASCAR audience, Rick Ware quickly moved Tomy to the No. 75 Ford Mustang.
"What an incredible experience," said Tomy. "You can't imagine my disappointment when I felt the car break on only my second qualifying lap. The RWR guys had worked so hard and have treated me so well, I really wanted to reward them with a good solid qualifying run. Not making the field was just the most awful feeling."
"Rick's idea to have the No. 75 in race trim and qualified was nothing short of brilliant," added Tomy. "These guys are real pros. They never panic. Obviously, they respect the importance of giving our partners good value for their financial participation. Getting a car into the field was huge."
Tomy went on to complete the race while finishing the day 27th.
"Given the roller coaster ride we had in simply making the show," noted Tomy, "I'm pleased with the finish and bring the car home under its own power. It's a pretty impressive field out there and I think everyone involved with getting this car into the race can hold their heads high. The No. 75 wasn't as good as the No. 41 by any means. It was a back-up car. But it served us well… very well. We're going to get out of here, move onto Montreal and keep building."
Drissi will compete in the remaining road course in the Nationwide Series and he'll then represent RWR for the 50th running of the Rolex 24 Hours of Daytona.
"Tomy will be one of our major features in the 50th running of the Rolex 24 Hours of Daytona for 2012 for RWR," stated Rick Ware, owner of RWR. "To get him in a car this early, no matter what kind, gives us a strong baseline of what he likes and needs to go fast. He is a great addition to our program."
Next up for Tomy is the NASCAR Nationwide Cup Series at Montreal's Circuit Gilles Viieneuve and the NAPA Auto Parts 200 Saturday August 20th. Green flag will drop at 2:30PM broadcast live on ESPN and on MRN radio at 2:30PM ET.
Tomy will be back in The American Le Mans Series when the ALMS returns to the Atlantic seaboard with the first running of the Baltimore Grand Prix Saturday, September 3, 4:30 p.m. ET. The circuit in downtown Baltimore will run along the city`s Inner Harbor, making the venue one of the most picturesque in ALMS history. The race will be streamed live on ESPN3.com beginning at 4:15 p.m. ET, Sept. 3 and air with a tape delayed feature on ABC at 4 p.m. ET, Sept. 4
Tomy Drissi is an American driver and Trans Am Champion. His driver experience includes ALMS, Trans-Am, NASCAR and Speed World Challenge. Born December 9 in Hollywood, California, Tomy owns an advertising firm that produces upcoming film displays for cinemas. Drissi's first racing experience in motorsports was street racing on Mulholland Drive in the Hollywood Hills. His professional racing career highlights include; 1999 Trans-Am Rookie of the Year, 2000 Trans-Am BBS Most Improved Driver, 2000 Trans-Am Crew of the Year and Trans-Am Champion. In 2010 Tomy competed in Trans-Am competing in 7 rounds and taking 1 win, 1 pole, 3 podiums, 4 Top Fives, 7 Top Tens; He also competed in the American Le Mans Series LMP1 class at Mid-Ohio finishing 3rd. Tomy is married to Lacy Livingston Drissi.
Find out more about Tomy at http://www.tomydrissi.com or on Facebook http://www.facebook.com/tomydrissi/. You can follow Tomy on Twitter at http://www.twitter.com/tomydrissi.
Alvin and the Chipmunks 3 : Chip-wrecked. In theatres December 16 2011
"On vacation aboard a luxury cruise ship, Alvin, Simon, Theodore and the Chipettes are up to their usual antics, turning the ship into their personal playground, until they become 'chipwrecked' on a desert island. As Dave Seville frantically searches for his AWOL charges, the 'Munks and Chipettes do what they do best – sing, dance and wreak havoc. But they're in for a surprise when they embark on an island adventure with their new friend – a castaway who's more than a match for The Chipmunks and The Chipettes."