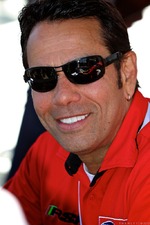 In the second event of the American Le Mans Series' west coast swing, the teams are gearing up for a six hour battle on the winding curves and elevations of Mazda Raceway Laguna Seca. No driver is more ready to take on this circuit than Tomy Driss, driver of the RSR #9 Prometheus LMPC car. The competitors will take the green flag 1:30 p.m. PT on Saturday, May 12, on the 2.238-mile Mazda Raceway Laguna Seca circuit.
"I absolutely love this track," said an enthusiastic Drissi. "This is a track you can really get into. You can run your own race with plenty of room to move. It's just a great track."
While presenting a great car to the grid, slower traffic has challenged the team in the season's first two events at Sebring and Long Beach. Undaunted, Tomy and his teammates, Bruno Junqiera and Roberto Gonzalez are anxious to get on track and show what they can do.
"It's really tough on a driver's mood," noted Tomy. "Control is a big thing to a driver. So when you're derailed by something out of your control, it's frustrating. We're really looking forward to the challenge of this track and the six-hour endurance format. It's such a good team and we have a great car and driver lineup. We're ready."
Fans will want to stop the RSR transporter during the ALMS autograph session and pick up an autographed copy of Tomy's Prometheus poster created for this weekend's event.
Tomy will also compete in this weekend's round 4 of the Pirelli World Challenge championship driving the #47 TruSpeed Porsche carrying the livery for the movie Ice Age Continental Drift opening in theaters July 13.
The American Le Mans Monterey presented by Patrón will air on ESPN2 at 5 p.m. ET on Sunday, May 13. Live coverage is available starting at 4:15 p.m. ET on ESPN3.
Tomy Drissi is an American driver and Trans Am Champion. His driver experience includes ALMS, Trans-Am, NASCAR and Speed World Challenge.
Born December 9 in Hollywood, California, Tomy owns an advertising firm that produces upcoming film displays for cinemas. Drissi's first racing experience in motorsports was street racing on Mulholland Drive in the Hollywood Hills.
His professional racing career highlights include; 1999 Trans-Am Rookie of the Year, 2000 Trans-Am BBS Most Improved Driver, 2000 Trans-Am Crew of the Year and Trans-Am Champion. In 2010 Tomy competed in Trans-Am taking 1 win, 1 pole, 3 podiums, 4 Top Fives, 7 Top Tens; He also competed in the American Le Mans Series LMP1 class at Mid-Ohio finishing 3rd. In 2011 Tomy returned to the American Le Mans Series, LMPC division. He scored a 2nd at Long Beach, 3rd at Lime Rock, 1st at Mid Ohio,1st at Inaugural Baltimore Grand Prix and second at Road Atlanta -Petit Le Mans.
Tomy is married to Lacy Livingston Drissi.
Prometheus – 6.08.12
Visionary filmmaker Ridley Scott returns to the genre he helped define, creating an original science fiction epic set in the most dangerous corners of the universe. The film takes a team of scientists and explorers on a thrilling journey that will test their physical and mental limits and strand them on a distant world, where they will discover the answers to our most profound questions and to life's ultimate mystery. http://www.prometheus-movie.com
The American Le Mans Series presented by Tequila Patrón is the world`s leading sports car championship and is recognized as the Global Leader in Green Racing. In the tradition of the 24 Hours of Le Mans, multiple classes of cars – purpose-built prototypes and production-based Grand Touring automobiles – race on the track at the same time to create compelling race action and constant passing. All cars in the Series compete using one of five approved alternative fuels or energy sources: clean sulfur-free diesel, cellulosic E85 or E10, Isobutanol and electric hybrid technologies. The Series has more automobile marques involved than any other major race series in the world as manufacturers develop relevant technologies on track that transfer directly to the customer showroom. The ALMS competes at North America`s premier road racing tracks and selected temporary street circuits in major urban markets.