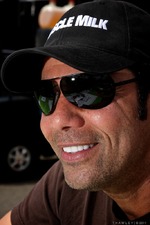 Tomy Drissi was unable to participate in this week's NASCAR Xfinity race at Mid-Ohio. Following an incident during the Zippo 200 at Watkins Glen, Tomy received minor injuries and has yet to be cleared by NASCAR and doctors.
Tomy, driving the No. 14 Arthritis Foundation Toyota, was the victim of a sizable wreck on Lap 18 in a section of the track known as the Esses. Todd Bodine was hit by Ryan Sieg and put into the wall and the field began to back up behind him, taking out a number of cars, including Drissi, Kyle Busch, J.J. Yeley, Blake Koch, Bubba Wallace, and others. Despite the violent impact, no one suffered any serious injuries. The race was red-flagged allowing track workers to remove the wrecked cars across the track.
"I've received so many well wishes from friends and fans," said the TransAm champion. "I was suppose to race with the TriStar guys again this weekend at Mid Ohio. I love that place and was really looking forward to being there. Unfortunately, due to the injury sustained last weekend, my doctors and NASCAR would not approve me to get back in the car."
"I want everyone to know I'm doing ok and on the mend," added Tomy. "And I want to congratulate Justin Marks on his first NASCAR win. What a great drive!"
Tomy is looking forward to rejoining the TriStar Motorsports team at the Road America 180 Fired Up by Johnsonville NASCAR XFINITY Series, August 25 – 27.
Tomy Drissi is an American driver and Trans Am Champion.
His driver experience includes ALMS, Trans-Am, NASCAR and Speed World Challenge.
Born December 9 in Hollywood, California, Tomy owns an advertising firm that produces upcoming film displays for cinemas.
Drissi's first racing experience in motorsports was street racing on Mulholland Drive in the Hollywood Hills.
Tomy's professional racing career highlights include:
• 1999 Trans-Am Rookie of the Year,
• 2000 Trans-Am BBS Most Improved Driver,
• 2000 Trans-Am Crew of the Year
• 2000 Trans-Am Long Beach Champion
• 2009 Trans-Am Champion.
• 2010 ALMS (one off race) Prototype LMP1 3rd. at Mid Ohio
• 2011 saw Tomy's return to the American Le Mans LMPC division. He scored a 2nd at Long Beach, 3rd at Lime Rock, 1st at Mid Ohio,1st at Inaugural Baltimore Grand Prix and second at Road Atlanta -Petit Le Mans.
• 2012, Drissi teamed with Bruno Junqiera for finishing 2nd at Laguna Seca, a win at Mosport (Canadian Tire Motorsports Park), 2nd at Baltimore and second at the season finale, Petit Lemans.
• 2013 NASCAR CUP/Nationwide. Best result at Mid Ohio starting 38th and finishing 19th.
• 2014 IMSA LMPC at Daytona 3rd.
• 2014 NASCAR CUP/Nationwide. Finished 19th at The Glen
• 2015 TUDOR Series. 2nd Place Rolex 24 at Daytona
About the Arthritis Foundation:
The Arthritis Foundation is the Champion of Yes. Leading the fight for the arthritis community, the Foundation helps conquer everyday battles through life-changing information and resources, access to optimal care, advancements in science and community connections. The Arthritis Foundation's goal is to chart a winning course, guiding families in developing personalized plans for living a full life – and making each day another stride towards a cure. The Foundation also publishes Arthritis Today, the award-winning magazine that reaches 4.2 million readers.