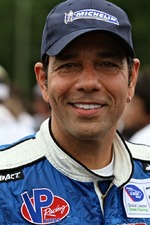 Tomy Drissi will feature the upcoming movie "Watch" for the livery on the No. 9 RSR LMPC prototype racer this weekend at Canadian Tire Motorsport Park (formerly Mosport Int'l). The team is in Canada for round five of the American Le Mans Series presented by Tequila Patron, the Mobil 1 Grand Prix of Mosport. Tomy and teammate Bruno Junqiera will test Friday then have two rounds of practice followed by qualifying on Saturday. The two hour and forty five minute race will get underway Sunday at 12 noon EST.
Canadian Tire Motorsport Park is the first in a trio of classic natural terrain courses over the next few weeks in the ALMS season. The Series will next move to Mid Ohio Sports Car Course and then on to Road America at Elkhart Lake, Wisconsin.
"This is the part of the season we really look forward to," noted Tomy. "Tracks like Mosport, Mid-Ohio and Road America are pure sports car tracks. You really find your rhythm on tracks like this. They're fast with lots of character and racing room. I'm really excited to be racing the No. 9 RSR Watch prototype here."
Opened in 1961, Mosport / Canadian Tire Motorsport Park retains its classic 2.459 mile road course. The famed circuit has hosted F1, Indy cars, motorcycles and a host of other racing classes. Yet non holds a greater popularity than the biggest event of the season, the Mobil 1 Grand Prix of Mosport featuring the American Le Mans Series sports car race. Previous years have seen three-day weekend crowds of more than 70,000.
Unlike many historic motorsport venues, Mosport's track layout has remained mostly unchanged from its original form. The fastest ever recorded lap was taken by Rinaldo Capello, in an Audi R10 TDI, in qualifying for the 2008 Grand Prix of Mosport, with a time of 1:04.094. The lap record was set in the race for that meeting with Capello's Audi Sport North America team mate Marco Werner lapping in a time of 1:05.823.
"We had a really good car at Lime Rock," said Tomy. "Even though Bruno got hit, the team got the suspension replaced and got him back out there. After that, the car was good. I'm fairly confident we'll be quick coming of the trailer. We'll get some practice under our belts and be ready for qualifying Saturday afternoon. Starting position isn't as important on a track like Mosport… so Sunday we'll be ready to go racing and make our way to the podium."
Mobil 1 presents the Grand Prix of Mosportis set for noon ET on July 22 from the 2.459-mile, 10-turn Canadian Tire Motorsport Park. ESPN2's broadcast featuring live coverage begins at 1 p.m. ET. Full, live coverage is available starting at 11:45 a.m. ET on ESPN3.
Tomy Drissi is an American driver and Trans Am Champion. His driver experience includes ALMS, Trans-Am, NASCAR and Speed World Challenge.
Born December 9 in Hollywood, California, Tomy owns an advertising firm that produces upcoming film displays for cinemas. Drissi's first racing experience in motorsports was street racing on Mulholland Drive in the Hollywood Hills.
His professional racing career highlights include; 1999 Trans-Am Rookie of the Year, 2000 Trans-Am BBS Most Improved Driver, 2000 Trans-Am Crew of the Year and Trans-Am Champion. In 2010 Tomy competed in Trans-Am taking 1 win, 1 pole, 3 podiums, 4 Top Fives, 7 Top Tens; He also competed in the American Le Mans Series LMP1 class at Mid-Ohio finishing 3rd. In 2011 Tomy returned to the American Le Mans Series, LMPC division. He scored a 2nd at Long Beach, 3rd at Lime Rock, 1st at Mid Ohio,1st at Inaugural Baltimore Grand Prix and second at Road Atlanta -Petit Le Mans.
Tomy is married to Lacy Livingston Drissi.
Find out more about Tomy Drissi at http://www.tomydrissi.com or follow Tomy on Facebook /tomydrissi and Twitter @tomydrissi
Watch: Four everyday suburban guys come together as an excuse to escape their humdrum lives one night a week. But when they accidentally discover that their town has become overrun with aliens posing as ordinary suburbanites, they have no choice but to save their neighborhood — and the world — from total extermination. http://jointhewatch.com
The American Le Mans Series presented by Tequila Patrón is the world`s leading sports car championship and is recognized as the Global Leader in Green Racing. In the tradition of the 24 Hours of Le Mans, multiple classes of cars – purpose-built prototypes and production-based Grand Touring automobiles – race on the track at the same time to create compelling race action and constant passing. All cars in the Series compete using one of five approved alternative fuels or energy sources: clean sulfur-free diesel, cellulosic E85 or E10, Isobutanol and electric hybrid technologies. The Series has more automobile marques involved than any other major race series in the world as manufacturers develop relevant technologies on track that transfer directly to the customer showroom. The ALMS competes at North America`s premier road racing tracks and selected temporary street circuits in major urban markets.