Opens Season With Fox Movies' Prometheus At The 60th Annual Mobil 1 Twelve Hours of Sebring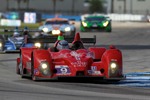 Reunited with Paul Gentilozzi and RSR, Tomy Drissi is excited and optimistic returning to the American Le Mans Series sponsored by Tequila Patrón. Tomy will be back in the highly contested LMPC division as the team prepares his Prometheus 6.08.12 LMPC car for Saturday's 60th Anniversary of the Mobil 1 Twelve Hours of Sebring Fueled by Fresh from Florida.
The 12 hour event kicks off the 2012 American Le Mans Series Championship sponsored by Tequila Patrón and will serve as the opening round of the 2012 FIA World Endurance Championship. As the birthplace of the FIA's endurance racing heritage, Sebring hosted the first FIA World Championship for sports cars in 1953 on it's legendary 3.74-mile circuit.
"I'm really happy to be back racing in the LMPC division," said Tomy. "Joining forces with RSR gives me added confidence that we can make a solid run at the championship. I'll be sharing the car with Bruno Junqueira. He and I are both familiar with the team. Bruno drove with RSR in the Jaguar program and I won my Trans Am Series Championship with Rocketsports."
RSR chose the LMPC division citing the class gives the team the ability to compete and win races on a level playing field.
"LMPC is a great class for the team to move into prototypes," added Tomy. "In LMPC, a team can get engaged and immediately be equal to everyone else at the technical and equipment level – if you want to compete and win races, LMPC is the right place."
"I really enjoy driving the car," Tomy continued. The car we are running is the very same Oreca FLM09 that took home the 2011 ALMS drivers' championship. I am very confident that Rocketsports will have us competitive right out of the gate."
The 2012 American Le Mans Series presented by Tequila begins with the 60th Annual Mobile 1 Twelve Hours of Sebring Fueled by Fresh from Florida on March 14-17. Qualifying takes place on Friday, March 16, at 3:20pm. Green flag for the 60th Running of the 12 Hours of Sebring is on Saturday, March 17, at 10:30am.
Tomy Drissi is an American driver and Trans Am Champion. His driver experience includes ALMS, Trans-Am, NASCAR and Speed World Challenge.
Born December 9 in Hollywood, California, Tomy owns an advertising firm that produces upcoming film displays for cinemas. Drissi's first racing experience in motorsports was street racing on Mulholland Drive in the Hollywood Hills.
His professional racing career highlights include; 1999 Trans-Am Rookie of the Year, 2000 Trans-Am BBS Most Improved Driver, 2000 Trans-Am Crew of the Year and Trans-Am Champion. In 2010 Tomy competed in Trans-Am taking 1 win, 1 pole, 3 podiums, 4 Top Fives, 7 Top Tens; He also competed in the American Le Mans Series LMP1 class at Mid-Ohio finishing 3rd. In 2011 Tomy returned to the American Le Mans Series, LMPC division. He scored a 2nd at Long Beach, 3rd at Lime Rock, 1st at Mid Ohio,1st at Inaugural Baltimore Grand Prix and second at Road Atlanta -Petit Le Mans.
Tomy is married to Lacy Livingston Drissi.
Prometheus – 6.08.12
Visionary filmmaker Ridley Scott returns to the genre he helped define, creating an original science fiction epic set in the most dangerous corners of the universe. The film takes a team of scientists and explorers on a thrilling journey that will test their physical and mental limits and strand them on a distant world, where they will discover the answers to our most profound questions and to life's ultimate mystery. http://www.prometheus-movie.com
The American Le Mans Series presented by Tequila Patrón is the world`s leading sports car championship and is recognized as the Global Leader in Green Racing. In the tradition of the 24 Hours of Le Mans, multiple classes of cars – purpose-built prototypes and production-based Grand Touring automobiles – race on the track at the same time to create compelling race action and constant passing. All cars in the Series compete using one of five approved alternative fuels or energy sources: clean sulfur-free diesel, cellulosic E85 or E10, Isobutanol and electric hybrid technologies. The Series has more automobile marques involved than any other major race series in the world as manufacturers develop relevant technologies on track that transfer directly to the customer showroom. The ALMS competes at North America`s premier road racing tracks and selected temporary street circuits in major urban markets.