Tomy Drissi teamed up with Bruno Junquiera and Ricardo Vera to pilot the RSR No. 9 A Good Day To Die Hard Oreca PC prototype and drove to a second place finish in the 15th running of Petit Le Mans Powered by Mazda at Road Atlanta, the final race of the 2012 American Le Mans Series presented by Patrón championship season. Teammate Bruno Junquiera finished third in the drivers Championship and the RSR team, in their first year running prototypes, finished second in the Team Championship.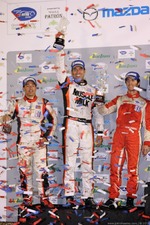 "This was just a great week of racing," said Tomy. "It was everything I love about Road Atlanta and another classic Petit Le Mans. I was hoping we could pull of the win this year, but we'll take the second. That makes second place two years in a row. There's got to be a win coming."
Friday, Junqiera qualified the car second for the start of the 10 hour / 1000 mile race.
"Bruno did a great job qualifying," noted Tomy. "He's the perfect teammate. He's knowledgeable in car setups and he's lightning fast. We had a great time together this season. It's a big plus having someone like Bruno in your corner."
The race winner and season champion was the formidable CORE Autosport. The win at Petit capped off an 8-race winning season and garnered them the championship.
"My hat is off to the guys at CORE," added Tomy. "As a racer, you want to know you're competing against quality and these guys are quality. It's that much more sweeter when you win knowing you've had a worthy opponent."
"We also owe a lot to the RSR team," Tomy continued. "Paul [Gentilozzi] and his boys never quit. We could always count on a fast, well prepared car. They worked tirelessly to get us the right setups and they pushed themselves to the limit. RSR was second in the Team Championship. It's their first year racing the prototypes and they have a lot to be proud of."
Petit Le Mans was founded by Road Atlanta owner Don Panoz and first run on October 10, 1998 as part of the IMSA season. The name translates to "little Le Mans." The race uses the rules established for the 24 hours of Le Mans by the Automobile Club de l'Ouest (ACO), slightly modified to allow additional cars to compete. The 1999 edition was one of the original events of the American Le Mans Series.
The race covers a maximum of 1,000 miles (1,600 km) (which is approximately 394 laps) or a maximum of 10 hours, whichever comes first; only once, in the rain-stopped 2009 race, has the leading team failed to complete 1,000 miles (1,600 km). Class winners at Petit receive an automatic invitation to next year's 24 Hours of Le Mans.
The Series will now break for the winter and resume action in February with the annual winter test at Sebring International Raceway and then kick off the 2013 schedule with the 61st Mobil 1 Twelve Hours of Sebring Fueled by Fresh from Florida on March 16. In 2013, the ALMS celebrates its 15th year, prior to merging with the GRAND-AM Rolex Series as a unified sports car racing series in 2014. ALMS will also move into the third year of its broadcast/cable television and online partnership with ABC/ESPN2/ESPN3.
Tomy Drissi is an American driver and Trans Am Champion.
His driver experience includes ALMS, Trans-Am, NASCAR and Speed World Challenge.
Born December 9 in Hollywood, California, Tomy owns an advertising firm that produces upcoming film displays for cinemas. Drissi's first racing experience in motorsports was street racing on Mulholland Drive in the Hollywood Hills.
His professional racing career highlights include; 1999 Trans-Am Rookie of the Year, 2000 Trans-Am BBS Most Improved Driver, 2000 Trans-Am Crew of the Year and Trans-Am Champion. In 2010 Tomy competed in Trans-Am taking 1 win, 1 pole, 3 podiums, 4 Top Fives, 7 Top Tens; He also competed in the American Le Mans Series LMP1 class at Mid-Ohio finishing 3rd. In 2011 Tomy returned to the American Le Mans Series, LMPC division. He scored a 2nd at Long Beach, 3rd at Lime Rock, 1st at Mid Ohio,1st at Inaugural Baltimore Grand Prix and second at Road Atlanta -Petit Le Mans.
Tomy is married to Lacy Livingston Drissi.
Find out more about Tomy Drissi at http://www.tomydrissi.com or follow Tomy on Facebook /tomydrissi and Twitter @tomydrissi
A Good Day To Die Hard (In theaters February 14, 2013) Since the first "Die Hard" in 1988, John McClane has found himself in the wrong place at the wrong time, with the skills and attitude to always be the last man standing, making him enemy #1 for terrorists the world over. Now, McClane faces his greatest challenge ever, this time on an international stage, when his estranged son Jack is caught up in the daring prison escape of a rogue Russian leader, and father and son McClane must work together to keep each other alive and keep the world safe for democracy.
The American Le Mans Series presented by Tequila Patrón is based on the prestigious 24 Hours of Le Mans. It features multiple classes of purpose-built prototypes and production-based GT cars that race on the same track at the same time. The ALMS holds events annually throughout North America on premier urban street circuits and top permanent natural terrain road courses. The American Le Mans Series has a leadership role in motorsports for the furthering of alternative fuel technology and use. The ALMS was the first motorsports body in the world to embrace an entire suite of alternative energy sources – E10 and E85 cellulosic ethanols, isobutanol, clean diesel and hybrid technologies. For additional information, please visit www.alms.com.
2013 ALMS Schedule
| | | |
| --- | --- | --- |
| March 16 – Sat. | Sebring International Raceway | Sebring, Fla. |
| April 20 – Sat. | Long Beach Grand Prix Circuit – * | Long Beach, Calif. |
| May 18 – Sat. | Mazda Raceway Laguna Seca | Monterey, Calif. |
| July 6 – Sat. | Lime Rock Park | Lakeville, Conn. |
| July 21 – Sun. | Canadian Tire Motorsport Park | Bowmanville, Ontario |
| Aug. 11 – Sun | Road America – # | Elkhart Lake, Wis. |
| Aug. 31 – Sat. | Grand Prix of Baltimore Circuit – * | Baltimore, Md. |
| Sept. 21 – Sat. | Circuit of the Americas – ** | Austin, Texas |
| Oct. 5 – Sat. | VIRginia International Raceway | Alton, Va. |
| Oct. 19 – Sat | Road Atlanta | Braselton, Ga. |
* – Shared weekend with IZOD IndyCar Series
# – Shared weekend with GRAND-AM
** – Shared weekend with FIA WEC